Come summer and the sun shines like there is no tomorrow. Between enjoying the bright and warm summery days at the beach, at barbecue parties, and rooftop restaurants, it is essential to not forget to dole out a little extra care to your disease. The rising mercury can throw off your diabetes routine and send your sugar levels plummeting down,before you see it coming.Certain associated complications such as damage to blood vessels hinders with your body's ability to cool down, so the possibility that you will feel the heat and suffer from exhaustion is higher. And it's the same with dehydration as well. You will end up squeezing out more water than you can possibly imagine, raising your blood glucose levels, and thereby intensify urination, causing more dehydration. It's like a vicious cycle if you ask us.Diuretics can be your best friend in times like these. And did we mention, extreme heat can also short circuit your body's mechanism of using insulin, shooting it into spaz mode? Testing often and then changing up your doses of insulin will help reign in the control. Talk to your diabetes doctor about other precautions you might have to take.
Amongst other things you can do to yank your body out of its depressive dehydration are:
1. Back it up with fresh fruit. Think oranges, kiwis, pears, berries, apricots, and apples.
2. Buddy up with your water bottle.
3. Bring out 'em carbs. No, they aren't necessarily bad. Where do you think most of your energy comes from? Try some low-fat Greek yogurt, peas, broccoli, and nuts.
4. Amp up on the vitamins and antioxidants with peaches and squash.
Below are some recipes that can help you with your healthgoals while you enjoy your summer full-fledged! The quantities mentioned in the recipes per serving are generally healthy, and any more than that could affect your diabetes management.
Chicken Fettuccine Alfredo with Summer Vegetables
1. This one's for your cheat days. While it is tossed with cheese, it is a much healthier alternative to regular pasta.
2. Eating vegetables that are in season translates to eating right. These summer vegetables will fall right in place with your prediabetes diet.
Ingredients
1. 170 grams choppedgreen beans
2. 1 yellow summer squash, sliced
3. 125 grams whole wheat linguine
4. Non-stick cooking spray
5. 1 small skinless, boneless chicken breast half (14 gms), cut into 1-inch pieces
6. 2 tbps fat-free milk
7. ½ cupof Italian cheese and herb-flavoured cream cheese sauce
8. Crushed black pepper
Prep time: 10 minutes | Cook time: 15 minutes
Method:
In a pan of boiling water, put green beans and cook for 6 minutes. Add squash and pasta3 minutes into cooking the beans. Drain the water and return the pasta, green beans, and squash to hot pan.
Coat a skillet with cooking spray and turn on the heat to medium-high.
Put in the chicken and cook for 4 to 6 minutes or until chicken is no longer pink, and stir often. Reduce the heat to a lower temperature and mix in the cream cheese sauce and milk. Stir it occasionally and cook just until it is hot through and through.
Add chicken mix to linguine mix and toss the mixture. Sprinkle with pepper and serve.
Number of servings:2
Serving Size: 2 cups
Nutritional value per serving:
| | |
| --- | --- |
| Calories | 390 |
| Fat | 13g(6g sat.fat) |
| Cholesterol | 79 mg |
| Sodium | 536 mg |
| Carbohydrates | 45 g(9 g fiber,6 g sugars) |
| Protein | 27 g |
Strawberry Beet Salad
1. If you feel like keeping off the regular food, courtesy the sweltering temperatures, this salad will be your go-to!
2. The beets prevent oxidative stress-induced changes and increase insulin sensitivity.Your body will thank you for this.
Ingredients
1. 3 cups cold roasted or cooked red beetscut into cubes
2. 1/4 cup orange juice
3. 2 tbsps olive oil
4. 1/4 tsp kosher salt
5. 6 cups fresh arugula
6. 1/8 tsp black pepper
7. 2 cups fresh strawberries cut into quarters
8. 28 gms crumbled goat cheese
9. 1/4 cup almonds, roasted and sliced
Prep time: 10 minutes | Cook time: 10 minutes
Method:
Put beets in a medium bowl minus any liquid. Take a closed jar andmix any left-over beet liquid, kosher salt, orange juice, oil, and pepper. Shake the jar to properlycoat the salad. Pour the dressing over beets.
In a large serving platter, line the base with the arugula.
Pour the dressing onto the arugula and toss well. Add strawberries and goat cheese on top and garnish with almondsbefore serving.
Number of servings: 6
Serving Size: ¾ cup
Nutritional value per serving:
| | |
| --- | --- |
| Calories | 133 |
| Fat | 8 g(2 g sat.fat) |
| Cholesterol | 4 mg |
| Sodium | 165 mg |
| Carbohydrates | 13 g(4 g fiber,8 g sugars) |
| Protein | 4 g |
Green Goddess Dip with Crudites
1. If a healthy snack is on your mind, this one is sure to bowl you over and will serve as a perfect platter for those little meet-ups too!
2. This light and herby recipe will bode well with your diabetic menu and give you your dose of Vitamin A and C
Ingredients
1.¼ cup packed fresh parsley leaves
2.¼ cup fresh tarragon leaves
3.¼ cup light sour cream
4.¼ cup snipped fresh chives
5.¼ cup reduced-fat mayonnaise
6.½ avocado, seeded and peeled
7.3 anchovy fillets, blotted dry
8.1½ tbsp white-wine vinegar
9.1 tbsp fat-free milk
10.1 tsp finely shredded lemon peel
11.½ tsp black pepper
6 cups assorted veggies (such as celery,cucumber, carrots, radishes, sweet peppers, blanched green beans, and/or broccoli)
Prep time: 20 minutes | Cook time: 50 minutes
Method:
In a food processor, combine all the ingredients except the assorted veggies and process until smooth.
Transfer to a serving bowl and chill between 30 minutes – 2 days. Serve with assorted vegetable pieces.
Number of servings: 6
Serving Size: 2⅓ tbsp dip and 1 cup vegetable pieces each
Nutritional value per serving:
| | |
| --- | --- |
| Calories | 101 |
| Fat | 6 g(1 g sat.fat) |
| Cholesterol | 8 mg |
| Sodium | 197 mg |
| Carbohydrates | 13 g |
| Protein | 2 g |
| Fiber | 3 g |
| Folate | 45 mcg |
| Sugars | 4 g |
| Vitamin C | 22 g |
| Calcium | 63 mg |
| Potassium | 396 mg |
| Iron | 1 mg |
Chana Dal Pancakes
1. There is truly nothing like Indian food. This one falls in the category of comfort food, just right for the nights when you come home exhausted.
2. The low glycemic index of chana dal is highly prized and perfect for diabetes treatment!
Ingredients
1.1/2 cup soaked chana dal
2.1/2 cup trimmed fenugreek leaves
3.1/2 cup trimmed spinach
4.1/2 cup grated carrot
5.4 to 6 curry leaves trimmed
6.1 tbsp low fat yoghurt
7.1 sachet fruit salt
8.1 tsp grated ginger
9.1 to 2 green chillies, chopped
10.Salt to taste
11.1 tsp oil for cooking
Prep time: 10 minutes | Cook time: 15 minutes
Method
Grind the chana dal till it forms a coarse paste. Add some water if necessary.
Mix the spinach, fenugreek leaves, carrot, ginger, curry leaves, green chillies and salt.
Prior to serving, add the fruit salt along with the yoghurt and mix it till properly combined.
Make 4 portions of the batter. Spread each on a non-stick pan to make a pancake of a diameter of 125 mm.
Let it cook with the heat turned down until both sides are golden brown. Pour a little oil if required. Serve hot.
Number of servings: 4
Serving Size: 1
Nutritional value per serving:
| | |
| --- | --- |
| Calories | 98 |
| Fat | 2.5g |
| Cholesterol | 14.1 g |
| Calcium | 45.4 mg |
| Iron | 1.4 mg |
| Folic Acid | 42.3 mcg |
| Vitamin A | 801.8 mcg |
| Vitamin C | 4.8 mg |
| Fibre | 0.5 mcg |
| Protein | 4.8 g |
Indian Curry Fish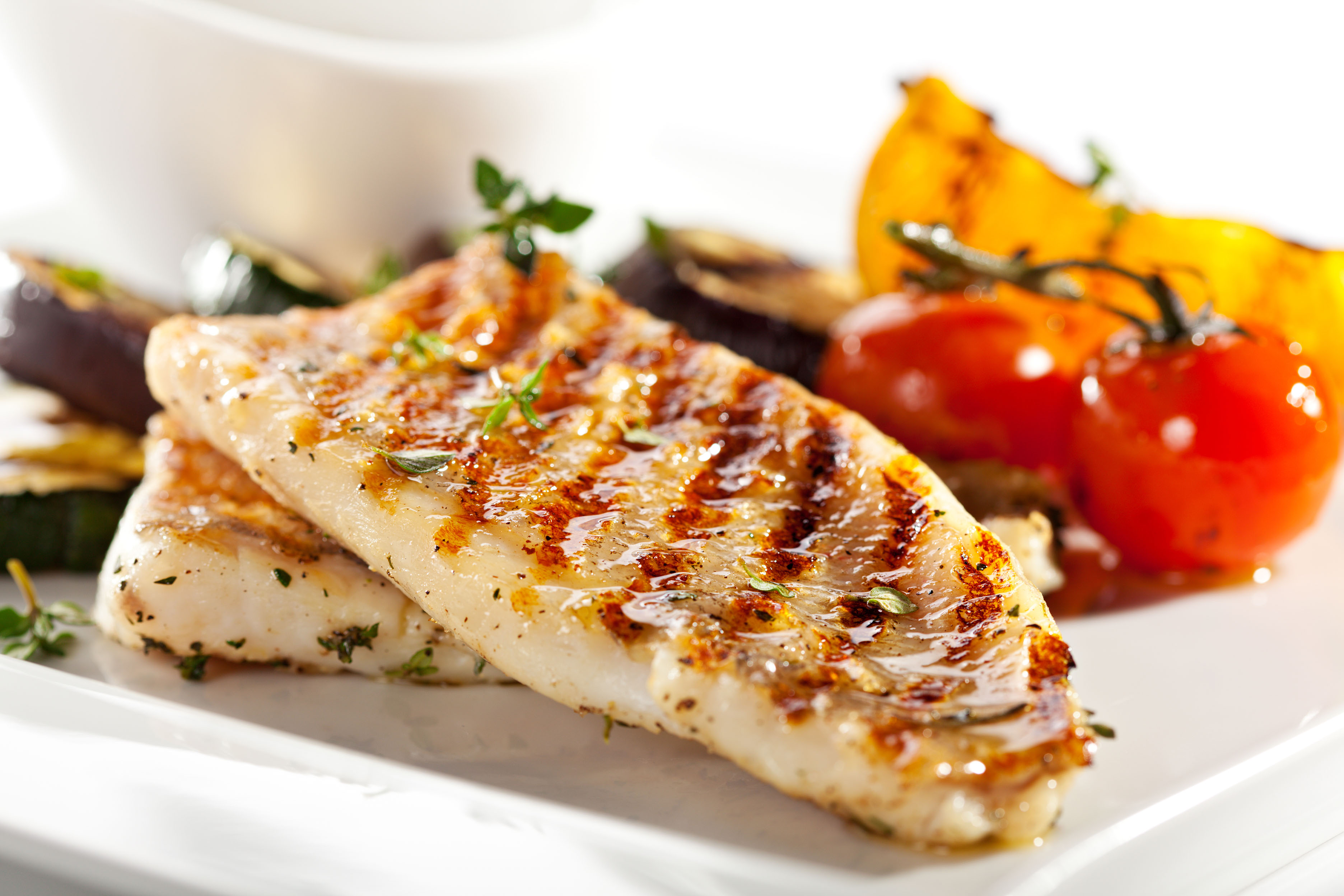 1. Fish that tastes just like summer!
2. Up your protein intake with this beautifully flavoured ethnic dish.
Ingredients
1. 113 g frozen or fresh skinless tilapia fillets, approximately 1/2 inch thick
2. 1/4 tsp salt
3. 1/4 tsp ground black pepper
4. 1 tbsp olive oil
5. 2 cups pea pods
6. 2 cups cherry tomatoes, cut into half
7. 1 tbsp trimmed fresh cilantro
8. 1 tsp curry powder
9. 1/2 tsp garam masala
10. 1 1/3 cups lentils, cooked
11. Fresh cilantro leaves (optional)
Prep time: 15 minutes | Cook time: 20 minutes
Method:
Preheat oven to 450 °F. Layera shallow baking pan with foil.Brush oil on it to grease and set aside. If the fish is frozen, thaw it, then rinse and pat dry. Sprinkle salt and pepper on it.
Arrange fish in a single layer in the prepped baking pan. Wrap the thin edges under and bake without covering, for 4-8 minutes. If the fish flakes easily with a fork, it is done.
In a large pan, pour in olive oil and turn the knob over medium-high. Add tomatoes and pea pods; reduce heat to medium. Cook for 2- 4 minutes or until vegetables are tender. Stir occasionally.
To serve, mix half of the cilantro, garam masala, and curry powderinto the vegetable mixture. Stir the remaining half cilantro, curry powder, and garam masala into the cooked lentils. Put the lentil and vegetable mixture in a plate and top with fish. Sprinkle with cilantro leaves.
Number of servings: 4
Serving Size: 1 fillet, 1/2 cup vegetables, 1/3 cup lentils per serving
Nutritional value per serving:
| | |
| --- | --- |
| Calories | 283 |
| Fat | 8 g(2 g sat.fat) |
| Cholesterol | 4 mg |
| Sodium | 165 mg |
| Carbohydrates | 13 g(4 g fiber,8 g sugars) |
| Protein | 4 gm |