Overview
Around 65.1 million Indians are living with diabetes!
Now that we have your attention, anyone around the age of 35 is vulnerable to diabetes. Recognizing this potential epidemic, the Apollo Hospitals Group's call to action was to launch the Apollo Sugar initiative.
Apollo Sugar Clinics is an innovative, single speciality diabetes and endocrine healthcare service provider, formed as a collaboration between Apollo Health & Lifestyle and Sanofi. This proven model of success aims to provide accessible care for diabetes and continues to expand its network across India.
Vision
Easy accessibility and trustworthy care to help make India diabetes-free.
Mission
Touch the lives of a million diabetics. Make diabetes 'disease free' by delivering the best outcomes via a proven patient centric care model that combines comprehensive clinical care with sustained lifestyle management &  behavioural changes in the individual."​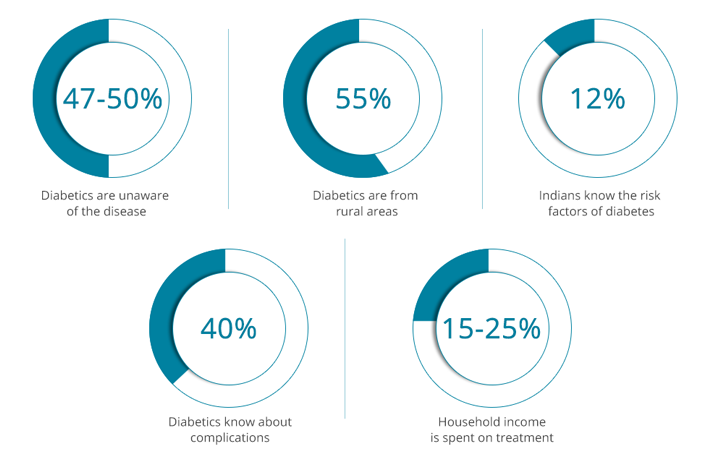 Recognizing the epidemic scale and complications of this disease, the Sugar model was created by the Apollo Hospitals Group. This initiative aims to reach out to the larger population, and address the ever increasing health concerns of type 2 diabetes and prediabetes.
Apollo Sugar Clinic : Promise to Patients
Unmatched Clinical Excellence
Convenient & Consistent Care
Lifestyle & Behaviour Modification Programs

Well experienced team of senior Endocrinologists and Diabetologists.
Clinical protocols designed for the best doctors by specialists.
Best-in-class diagnostics and technology for integrated care and holistic support round the clock.
Blend local and global practices to deliver the best.
Strong outcome orientation ensuring a proven model of success with each patient.

Conveniently located neighborhood clinic format, with a hub and spoke model.
Comprehensive patient experience and proven consistent care across India.
Customized and researched packages for all the stages of diabetes.

Clinical interactions and support.
Proven lifestyle and behavioral support
Dieticians, Counsellors & Educators in collaboration
On-call experts, web-based tracking of blood sugar parameters through the Apollo Sugar mobile app.