You know those guilt trips that that set in a little after or sometimes even when you're midway into having that cheesy wrap or pizza? But you realise it's too late? We are here to help you with times like those. There is no need to block out negative voices or work hard to make up for those times. Look to cooking up some recipes that are packed with some healthy ingredients. Once you try these diabetes diet. approved recipes, there is no looking back. Say goodbye to unsightly pounds and out-of-control sugar levels.
Banana-coconut bread
Who said you have to avoid bread if you have diabetes? The white kind sure is a no-no. But this recipe is one that will help aid in digestion and better diabetes management. efforts.
Crisp brown edges and a tropical flavour make this dish a breakfast winner. It passes as a perfect accompaniment for tea too!
Ingredients
All-purpose flour: 1 cup
Whole wheat flour: 1 cup
Baking powder: 2 tsp.
Pumpkin pie spice: 1/2 tsp.
Baking soda: 1/4 tsp.
Salt: 1/4 tsp.
Mashed bananas: 1 cup (2-3 medium sized bananas)
Unsweetened lite coconut milk: 1/3 cup
Egg: 1, lightly beaten
Canola oil: 2 tbsp.
Macadamia nuts or sliced almonds: 1/4 cup chopped
Raw chip coconut or shredded coconut: 1/4 cup
Splenda brown sugar blend: Look at package directions for product amount equivalent to 1/2 cup brown sugar.
Prep time: 15 minutes | Cook time: 50 minutes
Method:
Combine whole wheat flour, all-purpose flour, baking powder, baking soda, pumpkin pie spice, and salt in a bowl. Create a hole in the center of this mixture.
In another bowl, put in mashed bananas followed by brown sugar, egg, coconut milk, and oil and add it to the cavity that you made in the flour mixture. Mix them well until it becomes lumpy and moist through and through.
Preheat the oven to 350° F. Line the bottom and sides of an 8*4*2 inch loaf pan with some canola oilor parchment paper. Add the batter to this and top with macadamia nuts/slice almonds and coconut.
Bake for approximately 50 minutes or until completely baked. It's a good idea to cover the loaf with a piece of aluminium foil once it has baked for half an hour in order to prevent over browning.
Once done, keep it to cool on a wire rack for 10 minutes and then remove it to come to room temperature. Wrap it in paper and leave it in a container overnight before slicing it up.
Number of servings: 12
Serving Size: 1 slice
Nutritional value per serving:
| | |
| --- | --- |
| Calories | 139 Cal |
| Carbohydrates | 19 g |
| Sodium | 127 g |
| Fat | 6 g (1 g saturated fat) |
| Protein | 3 g |
Apple slaw
If you love yourself a creamy mayo-based salad or coleslaw, you have come to the right place. This recipe is perfect for Prediabetes Diet as the apples help protect against type 2 diabetes.
With a whole lot of crunch and a light sweetness, this salad is an anytime snack!
Ingredients
Green cabbage: 4 cups, shredded
Carrots: 1 cup, shredded
Apple: 1 medium, unpeeled and chopped
Red/Green bell pepper: 1/2 cup thinly sliced
Light mayonnaise or salad dressing: 2/3 cup
Reduced fat sour cream: 1/3 cup
Equal spoonfulor any other equivalent sweet substitute: 3 tbsp.
Dijon mustard: 1-1/2 tbsp.
Lemon juice: 1 tbsp.
Pepper: 1/8 tsp.
Prep time: 10 minutes | Cook time: 2 hours
Method:
Mix together all the fruit and vegetables in a bowl. Stir in the sour cream, mayonnaise, Equal, lemon juice, mustard, and pepper.
Refrigerate for an hour or two to allow the slaw to soak in the flavors.
Number of servings: 6
Serving Size: 1¼ cup
Nutritional value per serving:
| | |
| --- | --- |
| Calories | 152 Cal |
| Fat | 11 g |
| Sodium | 331 mg |
| Cholesterol | 15 mg |
| Protein | 2 g |
| Carbohydrates | 13 g |
Tandoori Chicken Skewers with Mint Raita
We'll give you a moment to process that! Yes, we said tandoori chicken – a little bit of spice and everything nice.
This version of the Indian appetizer is a low fat one that is a crowd pleaser. Perfect for when you're having friends over and want to make a delish snack you can eat too!
Ingredients:
Fat-free plain Greek yogurt: 1 cup, divided
Reduced fat coconut milk: 1/3 cup, divided
Curry powder: 2 tsp.
Garlic cloves: 1-2, finely chopped
Sea salt: 3/4 tsp. divided
Canola oil: 1 tbsp.
Skinless and boneless chicken breast: 450 g
Red onion: 2 tbsp. finely chopped
Fresh mint: 2 tbsp. chopped
Fresh lime juice: 1 tsp.
12 (8-inch) bamboo skewers
Prep time: 1-8 hours| Cook time: 30 minutes
Method:
Mix 2 tbsp. of Greek yoghurt along with the same amount of coconut milk a deep plate. Add in garlic, curry powder, 1/2 teaspoon salt and oil.
Slice chicken into 12 strips along its length. Put in the skewer through the bottom of a strip and push it length wise through to the top. Repeat with the other strips.
Coat the mounted strips with the marinade prepared and cover them with a plastic wrap. Refrigerate for 1-8 hours.
Heat a pan over medium high heat and grease it with some oil. Meanwhile, use paper towels to blot dry the marinated chicken strips and put layer them on the pan. Let the chicken cook and brown for two minutes before you turn it to the other side. Repeat process until it is cooked and heated through.
For raita, mix yogurt and coconut milk left with mint, onions, lime juice and salt and refrigerate.
Serve the hot tandoori chicken with raita.
Number of servings: 6
Serving size: 2 strips
Nutritional value per serving
| | |
| --- | --- |
| Calories | 121 Cal |
| Fat | 7 g |
| Saturated fat | 3 g |
| Sodium | 297 mg |
| Carbohydrates | 7 g |
| Protein | 8 g |
Oats and Moong Dal Tikki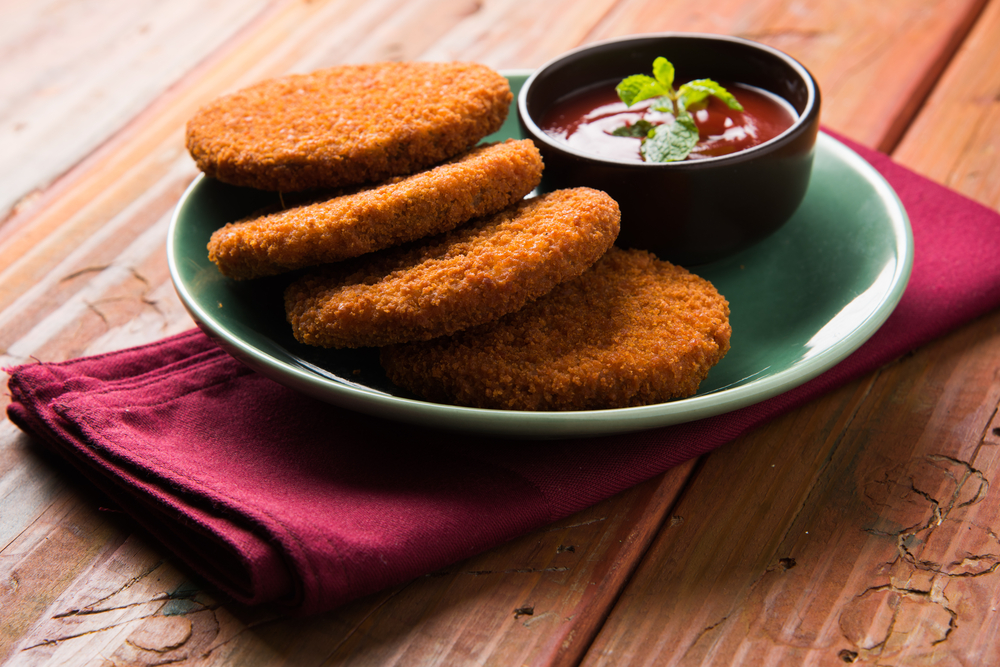 Packed with fiber and protein, this healthy tikki recipe fits right into the Type 2 Diabetes Diet!.
The oats give it a crunchiness that balances out the soft filling of the moong dal. Tastes just like your conventional tikki and is sure to bowl you over.
Ingredients:
Split yellow gram: 1/2 cup
Quick cooking rolled oats: 1/2 cup
Fresh curds: 2 tbsp.
Onions: 3 tbsp., grated
Green chillies: 1/2 tsp. finely chopped
Chaat masala: 2 tsp.
Chilli powder: 2 tsp.
Garam masala: 1/4 tsp.
Turmeric powder: 1/4 tsp.
Ginger-garlic paste: 1 tsp.
Coriander: 2 tbsp. finely chopped
Salt to taste
Oil: 2 tsp. for greasing and cooking
Prep time: 10 minutes| Cook time: 25 minutes
Method:
Boil split yellow gram in 1 cup of water in a pan till the dal is cooked and the water has vanished. Drain whatever little water remains and then blend it to a coarse paste.
In a bowl, combine this paste with remaining ingredients and mix.
Make 12 equal parts and use your hands to shape them into 2½" round flat tikkis.
Use ½ tsp. oil to grease a flat pan and cook each tikki till it is golden brown and evenly cooked on both sides.
Serve hot green chutney.
Number of servings: 12
Serving size: 1tikki
Nutritional value per serving
| | |
| --- | --- |
| Energy | 4.4 kcal |
| Fat | 1.1 g |
| Fibre | 0.7 g |
| Carbohydrates | 6.4 g |
| Protein | 2.1 g |
Egg Salad Sandwiches
When you're looking for a quick fix that is light on the stomach and packed with protein, this egg sandwich will be your ultimate go-to!
The lightness of the cucumber, the creamy mayonnaise and sour cream come together for a dish that will top your diabetes diet menu any day.
Ingredients:
Hard-cooked eggs: 4, finely chopped
Cucumber: 1/2 cup, peeled, seeded and finely chopped
Toasted walnuts: 1/4 cup coarsely chopped
Red sweet pepper: 1/4 cup finely chopped
Fresh chives: 2 tbsp. snipped
Fat-free mayonnaise: 2 tbsp.
Light sour cream: 2 tbsp.
Dried dill weed: 1/4 tsp. snipped
Dijon mustard: 1 tsp.
Salt: 1/4 tsp.
Black pepper: 1/4 tsp.
Whole-grain sandwich: 4
Fresh spinach leaves: 1 cup
Prep time: 20 minutes| Cook time: 0 minutes
Method:
Put together sweet pepper, cucumber, eggs, walnuts, chives, sour cream, mustard, mayonnaise, dill weed, salt, and black pepper and mix in a medium bowl.
Line the base of the bread with spinach leaves and spread the egg salad evenly over it. Top it with the other half of the sandwich and serve.
Number of servings: 4
Serving size: 1 sandwich
Nutritional value per serving
| | |
| --- | --- |
| Calories | 246 Cal |
| Fat | 12 g (3 g saturated fat) |
| Cholesterol | 215 mg |
| Sodium | 537 mg |
| Carbohydrates | 26 g |
| Protein | 12 g |
Next time, that tempting snack calls to you, you can dive right in. Visit your diabetes doctor . to understand your nutritional requirements and look to recipes that will satisfy you taste buds while keeping your blood sugar under control.