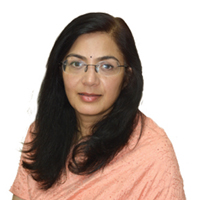 Dr. Usha Ayyagari - Sr. Consultant Endocrinologist & Diabetologist
MBBS, MRCP (UK), MRCP (London), CCT (UK)
Specializes in type 1 & type 2 diabetes, endocrine disorders, thyroid disorders, parathyroid & calcium disorders, obesity, and PCOS
Member, American Endocrine Society, Member, British Obesity & Metabolic Surgery Society (BOMSS)
| Consulting Locations | Time |
| --- | --- |
| OMR | Mon, Wed, Fri 9.00 am to 1.00pm,evening 4.00pm to 6.00pm |
---
Dr. Usha Ayyagari
MBBS, DMRD, MRCP (U.K.), CCT (U.K.) (Diabetes, Endocrinology, and General Medicine)
Dr. Usha Ayyagari is a Senior Consultant Endocrinologist and Diabetes Specialist. She practices at
1. Apollo Sugar Clinics OMR, Chennai
2. Apollo Specialty Hospitals OMR, Chennai
3. Apollo Cradle Karapakkam, Chennai
Dr. Usha Ayyagari has worked full time in U. K. in Diabetes, Endocrinology and Metabolic Medicine. She was the medical lead for MDT Bariatric (weight management) Services at the Royal Berkshire NHS Foundation Trust, U.K.
Dr. Usha Ayyagari specializes in thyroid disorders, PCOS, menstrual disorders, diabetes and endocrine problems in pregnancy, type 1 and type 2 diabetes, gestational diabetes, and insulin pumps.
She has a special interest in the medical, pre and postoperative management of obesity, and metabolic syndrome.
She provides treatment for:
• Type 1 Diabetes
• Type 2 Diabetes
• Insulin Pump Therapy
• CGMS/AGP
• Gestational Diabetes (diabetes in pregnancy)
• Thyroid Disorders: Hyperthyroidism and Hypothyroidism
• Parathyroid and Calcium disorders
• Obesity Management
• PCOS
• Bone Health
• Metabolic Syndrome
She underwent training in Oxford University to become a super specialist in Diabetes, Endocrinology, and General Medicine. She was also involved in clinical research in Oxford University and as a sub-investigator in numerous multicenter and multinational trials in both Diabetes and Endocrinology. She has numerous international and national publications and presentations in both national and international meetings to her credit.
Qualification
MBBS, India
MRCP, U.K.
CCT, U.K. (Diabetes, Endocrinology and General Medicine)
Certification & membership
Member, American Endocrine Society.
Member, Society for Endocrinology (British Endocrine Society).
Member, British Obesity & Metabolic Surgery Society (BOMSS).