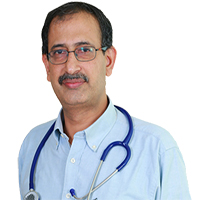 Dr. J.J.Mukherjee - Sr. Consultant- Diabetes and Endocrinology
Sr. Consultant- Diabetes and Endocrinology
---
About Dr.  J.J. Mukherjee – Diabetes Specialist 
Dr. J.J. Mukherjee is a Sr. Consultant Endocrinologist at Apollo Gleneagles Hospital, Kolkata. He is highly experienced in treating people with diabetes and endocrine disorders. He has published more than 30 research papers in international peer-reviewed journals.
He provides treatment for:
Diabetes Mellitus.
Diabetes Management.
Diabetes Complications.
Diabetes Diet Counseling.
Type 1 Diabetes.
Insulin Therapy.
Endocrine Disorders.
Thyroid Disorders.
Hypothyroidism
Hyperthyroidism
Pituitary Disorders.
Qualification
MBBS, JIPMER Pondicherry.
 MD, MRCP in UK.
FAM (Endocrinology), Singapore.
FRCP, London, UK.
Certification & membership
Member, RCP UK.
Member, Academy of Medicine Singapore.