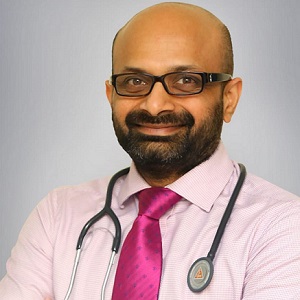 Dr. Ravi Sankar Erukulapati - Sr. Consultant Endocrinologist & Diabetologist
MBBS, MRCP (UK), CCT- GIM, Diabetes & Endocrinology (UK)
Specializes in type 1 & type 2 diabetes, endocrine disorders, thyroid cancer, gynecomastia, and obesity
Highly experienced in Screening, Diagnosis & Management of Diabetes and related problems
| Consulting Locations | Time |
| --- | --- |
| Jubilee Hills | Mon to Sat 10:00AM to 5:00PM |
---
Dr. Ravi Sankar Erukulapati
MBBS, MRCP (UK), CCT- GIM, Diabetes & Endocrinology (UK)
Dr. Ravi Sankar Erukulapati is a Consultant Endocrinologist and Diabetologist. He practices at Apollo Hospitals in Jubilee Hills, Hyderabad. He is a highly experienced Endocrinologist with special interest in thyroid and other hormone disorders. In his 17 plus-years of practice, he has numerous publications to his credit. He has published papers in several reputed medical journals and societies. Of note, he has also published a book on PLAB 1 exam in UK. His expertise is in providing treatment for both type 1 and type 2 diabetes, and endocrine disorders like obesity, hypogonadism, pituitary disorders, adrenal diseases, gynecomastia, and cancer of the thyroid just to name a few. He has been awarded many gold medals, distinctions, and certificates in his career till now.
He provides treatment for:
• Diabetes Mellitus, type 1 and type 2.
• Diabetes Complications including foot ulcers, neuropathy, and peripheral vascular disease.
• Insulin pump therapy.
• Continuous Glucose monitoring systems.
• Lipid Disorders.
• Diabetes Emergencies.
• Thyroid Disorders.
• Pituitary Disorders.
• Adrenal Disorders.
• Hypoparathyroidism.
• Hyperparathyroidism.
• Hypothyroidism.
• Hyperthyroidism.
• Gynecomastia.
• Delayed Growth.
• Endocrine Cancers.
• Thyroid Cancer.
• Calcium & Bone diseases including osteoporosis, osteomalacia, and vitamin D deficiency.
• Rare Endocrine Disorders.
• Endocrine Disorders in critically ill patients.
Qualification
MBBS - Guntur Medical College.
MRCP - United Kingdom.
CCT-GIM, Diabetes & Endocrinology - United Kingdom.
Certification & membership
Member, Royal College of Physicians, UK.
Specialist Registrar, Diabetes & Endocrinology, GIM (2005-2010)