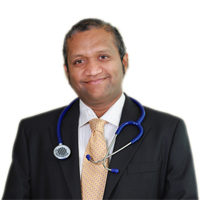 Dr. Rajesh Kesavan - Consultant Podiatric Surgeon
MBBS, MS (General Surgery), Fellowship in Podiatric Surgery
Specializes in Diabetic Wound Care management, foot deformities, Charcot arthropathy of the foot and ankle
Secretary Diabetic Foot Society of India, Member, American Board of Wound Management
---
MBBS, MS (General Surgery), Fellowship in Podiatric Surgery
Dr. Rajesh Kesavan is a Certified Wound Specialist and a specialist in Diabetic Foot Management. He practices at Apollo Hospitals in Greams Road, Chennai.
He is a wound care specialist and a podiatrist with experience in managing foot deformities especially Charcot arthropathy of the foot and ankle.
As a highly accomplished medical practitioner, he has won several awards, has published several papers, and has participated in numerous medical conferences. He is the Secretary of the Diabetic Foot Society of India, has worked as a Consultant Podiatric Surgeon in numerous medical institutions and is currently a Consultant Podiatric Surgeon specializing in Diabetic Foot Complications at Apollo Hospitals, Chennai.
He provides:
Diabetic Foot Treatment.
Wound Care.
Podiatric Treatment.
Qualification
MBBS, Stanley Medical College & Hospital, Chennai.
MS (General Surgery), Stanley Medical College & Hospital, Chennai.
Fellowship in Podiatric Surgery, Amrita Institute of Medical Sciences & Research Centre, Ernakulum.
Certification & membership
Member, American Board of Wound Management.