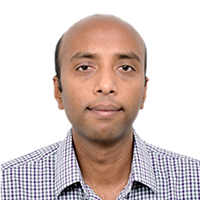 Dr. Sudeep Putta Manohar - Consultant Endocrinologist & Diabetologist
B., B.S, M.R.C.P (UK), MRCP (Endocrinology), CCST
Specializes in providing treatment for thyroid disorders and complex diabetes
Member, Endocrine Society of India
| Consulting Locations | Time |
| --- | --- |
| Jayanagar | Mon to Sat - 10.30 AM to 2:00 PM and 3:00 PM to 4:00 PM |
---
Dr. Sudeep Putta Manohar is a Consultant Endocrinologist and Diabetes Specialist at Apollo Sugar Clinics Jayanagar & Bannerghatta Road in  Bengaluru. He is vastly experienced in treating various endocrine disorders, and type 1 and type 2 diabetes. He has numerous publications and presentations to his credit with special interest in pediatric endocrinology, management of hypoglycemia, and lower limb amputation in diabetes.
He provides treatment for:
Type 1 diabetes.
Type 2 diabetes.
Insulin therapy.
Endocrine disorders.
Thyroid disorders.
Hypothyroidism
Parathyroid disorders.
Pituitary disorders.
Diabetic Foot.
Complex diabetes.
Qualification
MBBS, University of Mysore
MRCP, Royal College of Physicians UK
MRCP (Endocrinology & Diabetes)
CCST (Diabetes & Endocrinology/General (Internal) Medicine, Joint Royal College of Physicians, UK.
Certification & membership
Member, RSSDI
Member, Endocrine Society of India
Member, American Diabetes Association
Member, Royal College of Physicians of Edinburgh