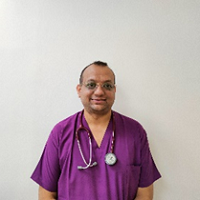 Dr. Mithun Bhartia -
| Consulting Locations | Time |
| --- | --- |
| Guwahati | Mon to Sat 9:00 AM to 12:30 PM |
---
An Endocrinologist in Guwahati for the past 6 years after a 12-year stint in England. Areas of interest are continuous glucose monitoring systems, Type 1 Diabetes, GLP-1 Therapy, Technology in Diabetes, erectile dysfunction and Time in Range.
 Represent India as a Global faculty at AGP Clinical Academy, which spearheads technology worldwide in Diabetes
He is a National faculty at most of the prestigious conferences in Diabetes and Endocrinology in India like RSSDI, Diabetes India, and ESI etc
He has started Practical Endocrinology conference in Northeast, which is the torchbearer of Academia in Diabetes in Northeast.
He is a part of the National Technology task force team of RSSDI and Founder Secretary of Association of Clinical Endocrinologists.
Qualification
MRCP(UK) - Royal College of Physician - 2009 MRCGP - Royal College of General Practitioners - 2008 MBBS - Gauhati University, India Sexual medicine Oxford School - 2010 SCE (Diabetes & Endocrinology) Royal College of Physician - 2010 MRCP (Diabetes & Endocrinology) Royal College of Physician - 2014 CCT (Diabetes @Endocrinology) General Medical Council - 2014 Etzwiler fellow Mayo clinic /IDC, USA - 2012 FECSM European Society of Sexual Medicine - 2012