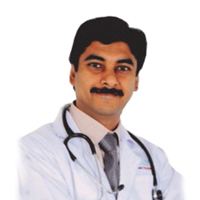 Dr. Praveer R Mathur - Consultant Diabetologist
MBBS, MRCP-UK; Diabetology & Hormonal Disorders – UK
Specializes in type 1 & type 2 diabetes, metabolic disorders, hormonal disorders, and other endocrine disorders
Member, Royal College of Physicians of United Kingdom
| Consulting Locations | Time |
| --- | --- |
| Srinagar Colony | Mon to Sat 4:30 PM to 6:30 PM |
| Banjara Hills | Mon to Sat 11:00 PM to 2:00 PM |
---
MBBS, MRCP-UK; Diabetology & Hormonal Disorders – UK
Dr. Praveer R. Mathur is a Consultant Diabetologist at Apollo Sugar Clinics Banjara Hills. He is an experienced diabetes specialist and endocrinologist with special interest in metabolic disorders and hormonal disorders. He provides specialized treatment for both type 1 and type 2 diabetes. After becoming a member of the Royal College of Physicians of United Kingdom, he is practicing in India.
He provides treatment for:
• Type 1 Diabetes.
• Type 2 Diabetes.
• Insulin Therapy.
• Hyperthyroidism.
• Hypothyroidism.
• Parathyroid Disorders.
• Pituitary Disorders.
• Adrenal Disorders.
• Endocrine Problems.
Qualification
MBBS, Manipal University, Karnataka.
MRCP, United Kingdom.
Certification & membership
Fellowships/Accreditations: • Member, Royal College of Physicians United Kingdom. • Member, Infection Control Committee at Apollo Hospitals in Yearly Audit. National Adult Diabetes Inpatient Audit.